In the last 7 days:
activity
#
time
miles
km
+m
Walking
2
3:00:00
7.77
(23:10)
12.5
(14:24)
Real Orienteering
2
1:43:02
8.07
(12:46)
12.99
(7:56)
260
6 /
8c
75%
Running
2
34:00
2.61
(13:02)
4.2
(8:06)
5
Total
6
5:17:02
18.45
(17:11)
29.69
(10:41)
265
6 /
8c
75%
Real Orienteering 1:00:50 [3] 7.55 km (8:03 / km) +100m 7:33 / km
shoes: Salamon Speed Cross 4 Black
24th bush event of the year.
Significant highs and lows for the day.
On the positive side, a special day- Bendigo Orienteers 40th birthday. I have only been around the club for about 25 of those years. A course in the shape of 40 (Course 2). A cake cooked in the shape of a control kite with marzipan map, compass, logos and punch. Cooked by club member and student cake maker Leisha Maggs. Lots of conviviality with members dressed in past club attire (generally appalling). Check out the club FaceBook page to see my photo essay. Do it if only to see the cake. A great local event out on by Peter Searle. Must be almost up there with his WOC event organisation 8-).
On the negative side. Fell and restrained my improving left hamstring. Could only walk the rest of the course slowly. Pick it from the doma. The line turns permanently red between 14 and 15. Back to nursing an injury and rehab. Probably walking courses next week. At least I finished. Julie had a collision with some wood and bailed out before the second control. Not a good day for the Barr Flynn household injury wise.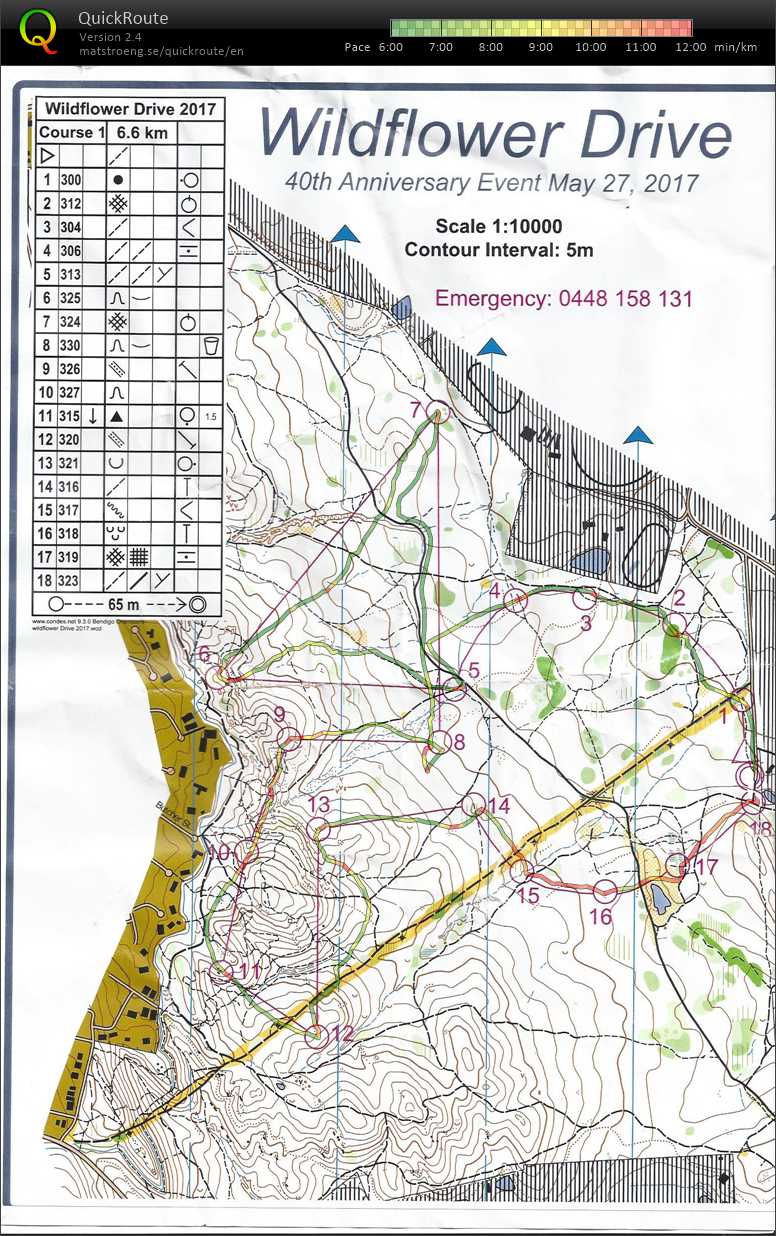 Real Orienteering 42:12 [3] *** 5.44 km (7:45 / km) +160m 6:46 / km
spiked:6/8c shoes: Salamon Blue
Reran Saturdays course. Debacle on a number of counts that I don't feel like explaining.
As to the orienteering, improved split times on 6 of 8 legs. The other two.. lets just say other issues were on my mind.
Jun 17, 2050 [1,724w, 5d]: ? - wmoc 2050 M95.. here is hoping, if I can afford the trave...
Recent Weeks:
all weeks | months | years | as calendar